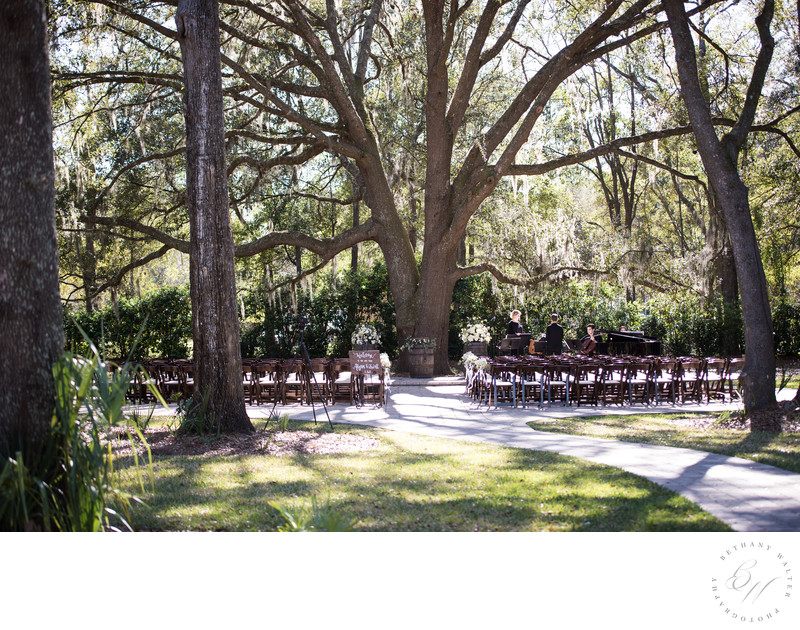 Bowing Oaks Plantation is located in Jacksonville, Florida in the Bayard area. This Jacksonville wedding venue is secluded, but close to 1-95, I-295, and 9B. Also, conveniently located near restaurants, shopping, and hotels makes this location easy for out of town guests. Known for its stunning oak trees and elegant charm, this barn venue has the southern plantation feel with all of the modern amenities. The barn is large and can seat up to 200 guests!
Additionally, there is space for the bride and groom, with both sides of the bridal party, to get ready for the big day without seeing each other. Another big perk is the on-site parking. With city venues, that can be a concern for couples and their guests.
Caterers love the on-site kitchen with coolers and oven. Bowing Oaks spared no expense in the details and prioritizing what features would benefit the couples and the vendors. Caterers, planners, florist, and DJs all have easy access to loading and unloading space.
The courtyard area is the perfect spot for cocktail hour and kicking off the reception. Transitioning guests from the ceremony space to the cocktail hour is easy with just following the pavered path. The distance between the ceremony space, many brides and grooms like to use for formal pictures after the ceremony, is perfect for providing separation but still allowing guests to watch the pictures taking place.
Formal pictures typically move pretty quickly with many moving people. Asking guests to make their way to cocktail hour may make some couples feel pushy, but it really does streamline the process for gathering the many different groupings. Plus, who would not want to head to the cocktail hour and grab a drink or sweet tea and soak up the sunshine and charm of Bowing Oaks Plantation?